Minor clogging is a common problem in many households, from slow draining kitchen sinks to toilets that won't flush. While a simple drain issue may not seem like a big deal, it can develop into a much more severe plumbing problem, requiring costly repairs. If left untreated, backed-up drains can cause flooding and moisture damage to commercial properties and homes. Multiple clogs can even cause permanent damage to plumbing.
Professional drain cleaning services can clear stubborn clogs and help you maintain a fully functional plumbing system. This reduces the risk of drain emergencies and can extend the lifespan of your drain systems, leading to long-term savings. If you experience a plumbing emergency, like a burst pipe, your first action should be to call professional drain cleaners at Delta Plumbing & Mechanical.
Drain Services
A professional drain cleaning service uses high-quality cleaning equipment to handle various issues, from clogged bathroom drains to preventative maintenance. While some companies may offer specialist plumbing solutions, most professional drain cleaners provide standardized cleaning and repair services, including:
Drain clog assessment
The first step a professional drain unclog service will take is to assess the issue. This can be done visually or by taking apart sections of plumbing. A buildup of debris usually causes a standard drain clog. Kitchen drains often clog from the autoxidation of oil or an accumulation of food scraps. Bathroom sink drains gather hair, dirt, and soap materials, leading to blockages.
Although you might be able to keep this under control with chemical products and a plunger, you may need a professional to handle more extensive clogging. If you require more than just a standard drain unclog, your Delta Plumbing & Mechanical sewer and drain cleaning technician can perform a video inspection.
This involves inserting a rod or pole with a video camera into the drain or sewer lines. Your technician can quickly diagnose the issue, ensuring fast and effective cleaning and repair solutions.
Sewer cleaning
Sewer and drain cleaning are some of the most common tasks carried out by Delta Plumbing & Mechanical professional cleaning services. Provided there is no structural damage to the plumbing; this process typically involves a combination of chemical and manual cleaning. First, the sewer drains are cleared using high-grade cleaners containing sodium hydroxide.
Your technician may then use a snake or drain auger to manually clear or break up compacted materials. Snakes and augers are essentially long, thin wires with a cleaning attachment on the end. There are manual and motorized augers.
Drain cleaning
Professional cleaning services can clear a wide variety of drains in homes and commercial properties, such as:
Floor drains
Bathroom drains
Shower drains
Laundry drains
Storm drains
Gutter systems
Once the drain is unclogged, the technician flushes the lines with clean water to eliminate excess debris or chemical cleaner residue. After fully unclogging the drain it's essential to complete this step to avoid existing clogs from worsening.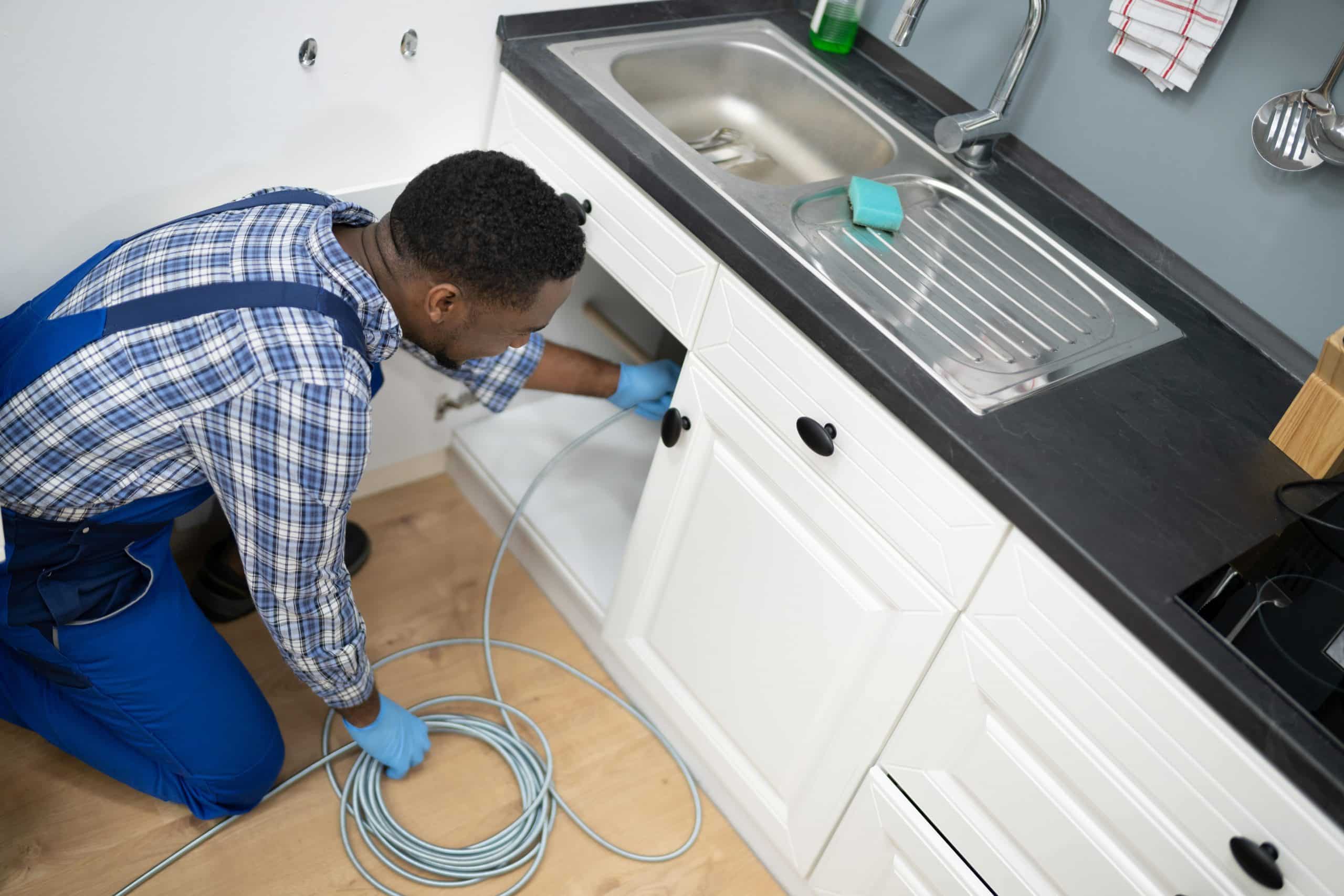 Hydro jetting drain cleaning
Hydro jetting drain cleaning services may be needed to remove hard water buildup on the interior of pipes. An accumulation of residue from hard water can slow down the drainage rate, contributing to blockages.
Professional cleaners use hydro jet machinery to flush out these materials. Hydro jets can deploy water at up to 4,000 PSI, ensuring they can remove the most stubborn of drain blocks.
Preventative cleaning
Professional drain cleaning services aren't just for emergencies. Regular maintenance, using enzymatic cleaners, snaking equipment, and other cleaning tools can keep your plumbing system performing optimally. Preventative cleaning helps stem future clogs and lowers the risk of pipe damage.
Quality cleaning services clear your clogged drain in the short term, but they can also ensure you have clean and healthy pipes over the long term. Comprehensive professional cleaning of your entire home should take two to three hours.
Signs Your Drain Needs Cleaning
Knowing when your drain needs cleaning can save you a lot of money on potential repairs. However, the signs aren't always easy to detect, especially if you're unfamiliar with how a plumbing system operates. Here are some of the most common signs that you should hire a professional drain cleaning company:
Slow drainage
If your sinks or toilets take longer than usual to drain, there is a strong chance you will have a blockage.
Low water pressure
A variety of issues can cause low water pressure. If your toilet cistern is refilling slowly, there may be a clog that needs clearing.
Toilet water depth fluctuations
It's essential to keep an eye on the water depth in your toilet. Fluctuating depth could indicate irregular flow caused by clogs or blockages in your plumbing.
Flooding
While you're sure to notice major flooding, minor leaks sometimes take longer to detect, particularly in rooms you don't use very often. If water leaks beneath your toilet, bathtub, or sink, call a professional drain cleaner immediately to prevent a serious flood or more significant damage.
Avoid Costly Repairs With Expert Drain Cleaning Services From Delta Plumbing & Mechanical
Never cut corners when it comes to home repairs and maintenance. Whether you want to get ahead of a potential issue, or handle an existing drainage problem, hire professional drain cleaners from Delta Plumbing & Mechanical. Our high-quality equipment and heavy-duty products ensure we can handle a range of residential and commercial tasks.