A sewer line draws wastewater from a building and transports it to the municipal sewage system, where it is deposited in an industrial waste treatment plant for safe disposal. It is an essential component of a home's plumbing system, helping prevent bacterial contamination in the local water service and immediate environment.
Sewer line installation is a delicate process, requiring precise planning, high-quality equipment, and expert plumbing knowledge.
Building sewer lines incorrectly can be disastrous, causing extensive property damage and the potential spread of harmful waste. If you require a sewer line replacement for an existing property or a fresh installation for your new build, hire a reputable plumbing company, like Delta Plumbing & Mechanical.
Our experienced and skilled team of plumbing professionals provides a range of services in Michigan, including sewer installation and new construction plumbing.
When You Should Consider Sewer Line Installation
All new buildings require comprehensive plumbing systems to transport water and sewage safely through the property. Planning and designing your plumbing infrastructure should never be an afterthought.
Pipes, lines, and vents have specific space and elevation requirements, so they must be considered during the early stages of a new build.
All plumbing equipment has a serviceable lifespan. Depending on the piping material, quality of installation, and maintenance, the longevity of a plumbing system can range from 20 to 70 or more years. Regular inspections by licensed plumbers can help you identify if parts and fixtures need replacing.
However, underground piping and sewage lines may be difficult to access. Specific signs can indicate that your sewer lines may need an upgrade:
Backups and blockages
If your toilet is backed up or you experience backflow when you flush, there is a strong chance you have a drainage or sewer problem. If backup spreads to your sinks or bathtubs, you may have an even bigger issue. It's important not to dismiss backup, even if the water is clear. Otherwise, you could be faced with raw sewage emerging from your fixtures.
When you detect backflow problems, switch off the water supply and contact Delta Plumbing & Mechanical. We will immediately assign a plumber to your case to diagnose the issue quickly.
Sewer odor
A properly installed, safe sewer line is airtight in all areas other than the ventilation stacks. Sewage odor has a distinct smell, so you should be able to detect a leak very quickly.
Occasionally, sewage smells are masked by other odors in a home. If you begin to notice foul odors, call Delta Plumbing & Mechanical right away.
Slow drainage
Slow draining sinks or bathtubs are often the first signs of a pipe blockage. If ignored, a clogged drain can cause a sewage backup, eventually leading to damaged lines. Addressing a bottleneck quickly minimizes the risk of a serious problem, saving you the cost of a sewer line replacement.
Yard damage
If your sewer lines leak, they may cause a build-up of wastewater underground. This often creates pools or wet patches in your yard. In some cases, sewage leaks act as natural fertilizers, creating healthy patches of grass on your lawn. Unfortunately, this often indicates a sewage line problem.
Gurgling noises in your toilet
Gurgling noises when you flush may not seem like a big deal. However, the bubbling sound is one of the most common precursors to a serious sewer line problem. The gurgling sound is created by clogs within the actual sewer line, causing air bubbles to flow through the water and into your bowl or flushometer tank.
If you don't repair this issue, it could cause the sewage line to crack or burst, damaging your entire system. When sewer line blockages occur frequently, it may be time for a sewer line replacement.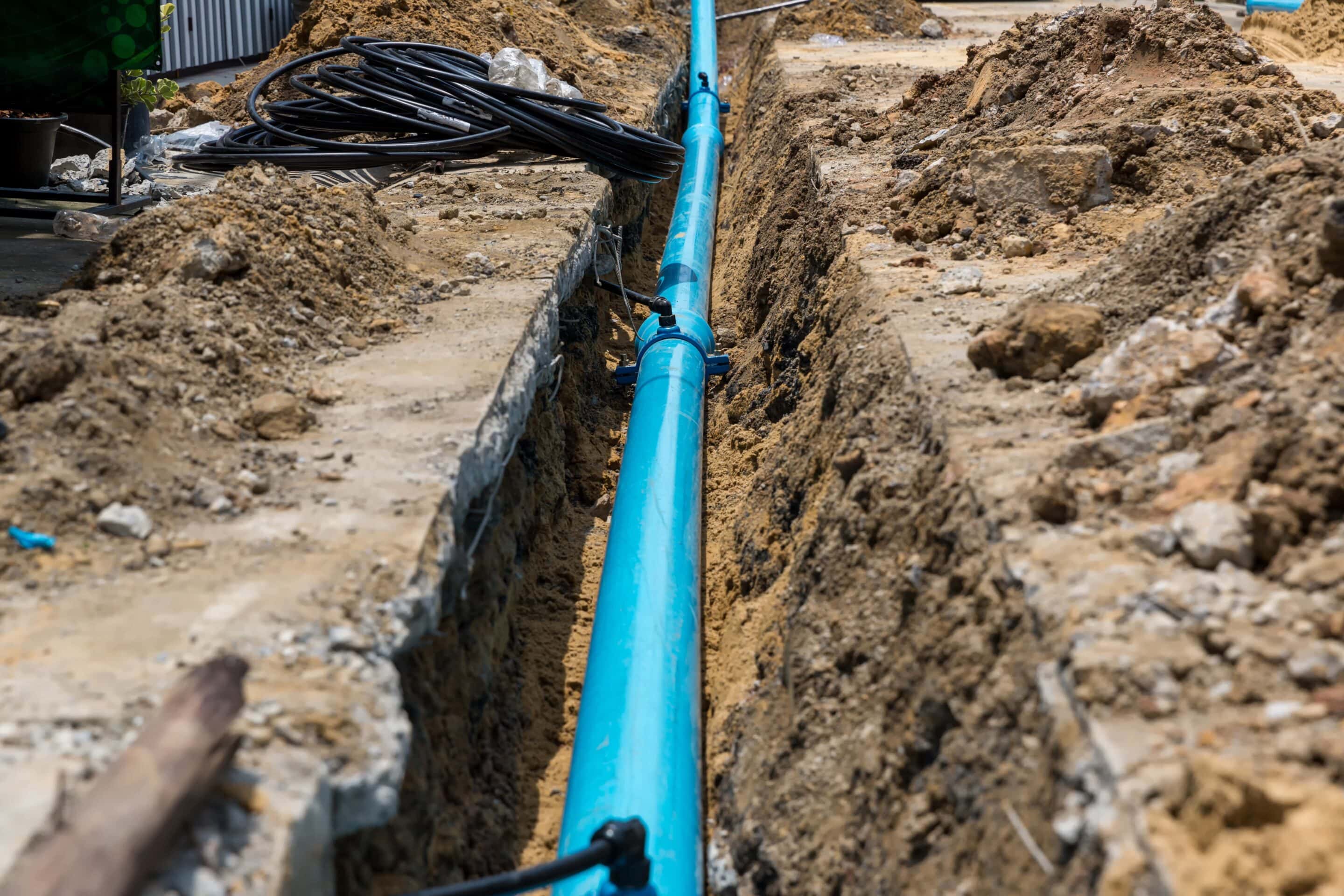 Installing a New Sewer
At Delta Plumbing & Mechanical, we can complete an entire sewage installation for a new or existing building. The cost of sewer line installations is dependent on several factors, including:
Property size
Preparatory work (e.g., trench digging)
Drain cleaning
Connection costs
The kinds of fixtures you need
Sewage line material costs per square foot
Labor
We pride ourselves on offering competitive pricing, so don't hesitate to give us a call to discuss your options and get a free estimate. Our sewer installation procedure typically consists of five key steps:
Determining the pipe size and material
Your budget is likely to influence the type of material you choose for piping. A heavier pipe material, like concrete, is a popular choice due to its durability and longevity, particularly for underground piping. It is eco-friendly and resistant to rot and degradation.
Steel materials, like a cast-iron hub pipe, are a reliable option. However, their vulnerability to rusting has decreased their popularity. Rusted piping in buildings can affect water quality and may need frequent repairs.
Plastic pipe fittings are popular among contractors because of their flexible sizing and usability. Plastic pipes are often recommended in earthquake zones because they maintain their shape and structure during intense seismic movements. PVC pipes are also highly durable.
The size of pipe you use is also an important consideration. Most modern sewage lines have a nominal pipe size of approximately four inches in diameter. However, two-inch pipe diameters can work for toilets on the same line.
Determining the elevation and slope
Your plumber determines the elevation of the piping, ensuring adequate flow from your home to the municipal sewage line. We calculate the elevation level using GPS technology and laser levels.
We then use a plumbing algorithm to calculate the level of slope needed. This is essential as a steep slope can cause clogging, and a shallow slope may not facilitate adequate drainage velocity. The slope of your sewer line must also be in line with Michigan building codes.
Digging the trench and laying the pipe bedding
We carefully dig pipe trenches, avoiding soil disturbance and ensuring a solid foundation for the sewer lines. Where possible, we keep trenches narrow, occupying as little space as possible. If necessary, we use sand to ensure the slope angle is correct.
Pipe installation
Once the preparation is complete, your plumber can work on laying the pipes. We install piping in sequence before connecting the system to the municipal supply. As Michigan building codes specify, we create at least two cleanouts to provide easy access to the pipes for future inspections, cleaning, and maintenance. Each section is carefully inspected ahead of the final step.
Backfilling the trench
The backfilling process involves layering the trench to protect the pipes. We use a combination of sand and soil, ensuring the trench is tightly compacted and settled.
Sewer Maintenance
Delta Plumbing & Mechanical is a leading plumbing company in Michigan. We provide customers with continuous service, helping maintain a functional and sanitary sewage system. Our team offers a wide range of installations, repairs, and maintenance services for residential and commercial properties, including:
Appliance installation
Water heater repairs and replacements
Plumbing system inspections
Pipe repairs
Backflow testing
Drain cleaning
Smoke testing
Don't Procrastinate With Sewer Issues
A properly installed sewer line can save you a lifetime of plumbing issues and keep your water supply sanitary. With Delta Plumbing & Mechanical, you can rely on high-quality sewer installations and follow-up plumbing services. Contact us today for more information on installing or replacing your sewer system or to schedule a house call.