Preparing for a new build is a complex process involving several moving parts. While many homeowners have a stylistic vision and a strong understanding of how the property should look, it's easy to disregard complex structural elements like plumbing.
Although repairs, replacements, and upgrades can be made periodically, plumbing is typically a one-time installation. Reconfiguring an entire plumbing system is a huge undertaking, so getting it right the first time around is crucial.
New construction plumbing is a specialized process that involves far more than standard repairs. Hiring a skilled and experienced contractor is essential to ensure proper planning and safe installation of various plumbing networks.
At Delta Plumbing & Mechanical, we offer comprehensive new construction plumbing services. Our team of licensed, insured, and experienced plumbers take care of all aspects of the process, from the planning stages to the installation of the final fixtures.
We involve our clients in every phase, providing peace of mind and assurance that your new home has safe and sufficient water, drainage, and heating fixtures. Our new construction process involves three key stages: planning, installation, and maintenance.
New Construction Plumbing Planning
The first task of any new construction plumbing project is to plan appropriately. The plumber creates a layout of the water pipes and supply lines where the fixtures and fittings within the house will go. This often involves liaising with builders to make precise plans and avoiding potential obstacles during installation and operation.
At Delta Plumbing & Mechanical, we use the latest technology to ensure all plumbing lines and fixtures are accurately planned. Our technicians use computer-aided design (CAD) technology to create mock-ups and 3D visuals of your plumbing system before a single pipe is installed. This technology enables us to make swift changes and adjustments according to your needs.
Securing permits and studying building codes is an integral part of new construction, so contact Delta Plumbing & Mechanical early in a new build.
Key Plumbing Installations
Before starting your build, consider the core plumbing installations you need. There are three key pieces of equipment in any functional plumbing system: pipes, household fixtures, and a septic tank. They combine to form the foundations of your water and sewage systems.
Piping
Many homeowners take good water pressure and flow for granted. Proper installation and positioning allow piping to draw water at up to 60 psi, providing your new home with adequate pressure for a multi-person household.
Delta Plumbing & Mechanical ensure your pipes are secured correctly to the mains and sanitary system. We also offer continued maintenance and repair services, keeping your piping system in excellent condition for decades.
Fixtures
Once the piping is correctly installed, your new build will have running water. However, you'll need fixtures, such as faucets, drains, sinks, and bathtubs to gain access to the water.
In some cases, we may install these as the building work occurs. However, this may have to wait until heavy-duty construction work is complete. On a live construction site, we cover fixtures with protective plastic or tarp to ensure they are like new when the house is finished.
Septic tank
A septic tank is the most important sewage unit in a household's plumbing system. It separates solid and liquid waste that drains from your home and slowly breaks them down until they are removed to a commercial sewage facility. We can recommend a suitable location for your septic tank. It must be located underground, approximately 25 feet from the house, and away from steep slopes or trees.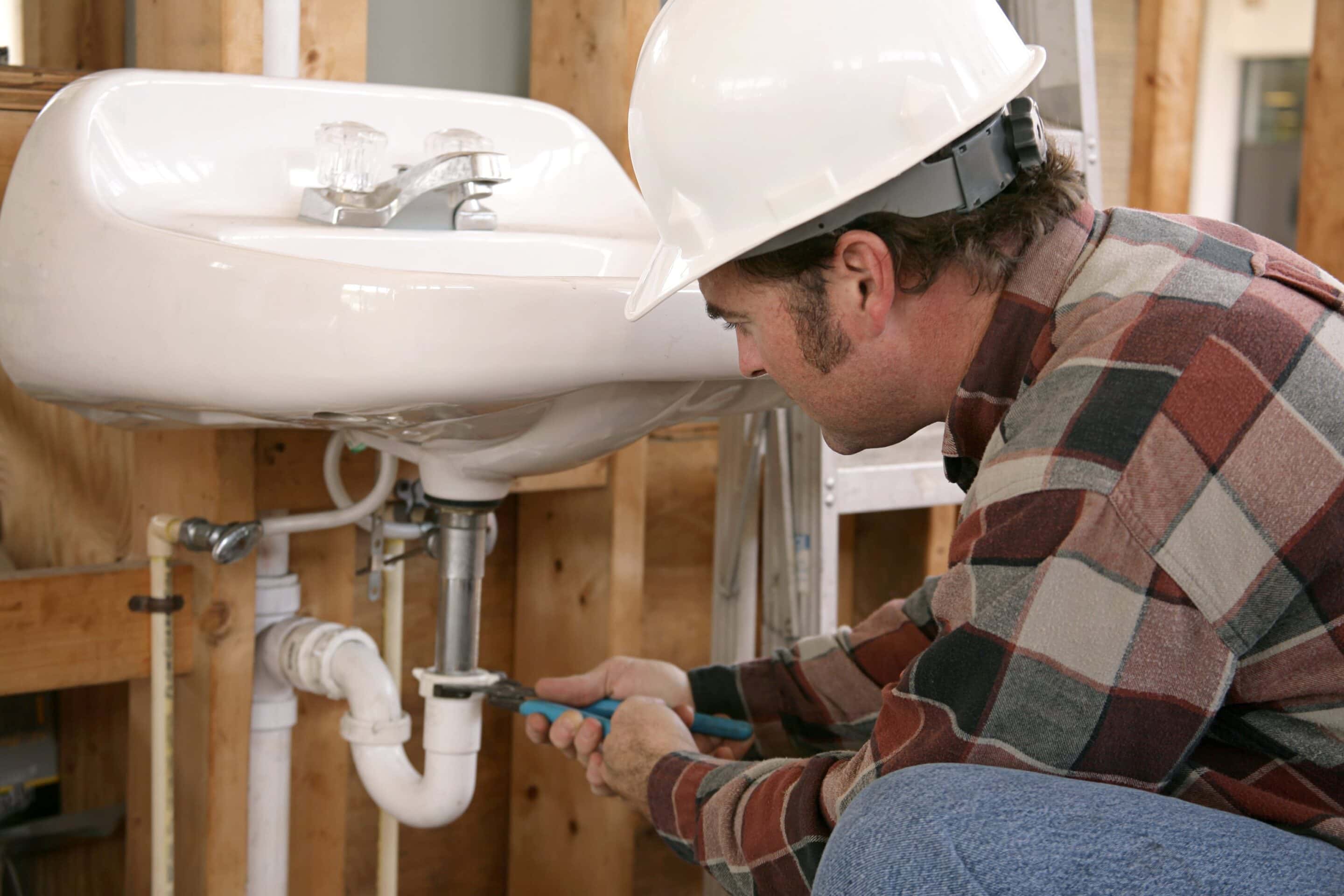 New Construction Plumbing Process
We can begin the new construction plumbing when planning has concluded, and you have decided on the core plumbing components. Our new construction plumbing process involves three steps:
Codes and building permits
Plumbing codes refer to the regulations surrounding the design, installation, and subsequent inspections of your home's piping or sanitary systems. These codes are legal requirements and help ensure your plumbing system runs safely for its serviceable lifetime. Before installing pipes, fixtures, or tanks, we must ensure that the equipment and installation procedures are up to code.
If our work requires building permits, these must be obtained ahead of time. As an experienced plumbing company, we can help you secure relevant documentation quickly and efficiently.
Drain and supply vents
As soon as the building codes and permits are taken care of, we can begin the construction of your plumbing system. This starts by running the drain lines and supply vents. Our thorough planning process ensures that these lines are positioned accurately, preventing future drainage issues.
Supply lines
The next step is to install supply lines, allowing water to flow sufficiently into the premises. Water supply lines are typically manufactured from copper piping, providing long-lasting durability and corrosion resistance. This is a delicate process, requiring skilled plumbers. We make sure not to cross drain or vent lines, minimizing the risk of bacterial contamination to your water supply.
Fixture installation
At this point, the heavy plumbing work for your new build is almost complete. With the plumbing foundations in place, we can install the fixtures you have chosen for your kitchen, bathrooms, and laundry, such as sinks and faucets. These appliances remain under protective coverings until the rest of the construction work is done.
Maintenance, Repairs, and Future Installations
Delta Plumbing & Mechanical is a comprehensive plumbing company. After the new construction system work is complete, we provide a wide variety of services and can remain your lifelong plumbing partner. Our broad service offering ensures we can provide a range of further repairs, replacements, installations, and maintenance tasks. Other popular residential and commercial services we offer include:
Water heater installation, repairs, and replacements
Sewer installation, repairs, and replacements
Drain and piping inspections
Pipe repairs
Water damage repairs
Drain cleaning
Backflow installation and testing
Smoke testing
Schedule a Consultation With Delta Plumbing & Mechanical
At Delta Plumbing & Mechanical, we understand the challenges associated with a new build. We work diligently to make the plumbing process as smooth and stress-free as possible. Whether you need advice and guidance on your plumbing system or are in the early stages of project development, schedule a consultation with us today.
For more information on our services, contact us online or give us a call.