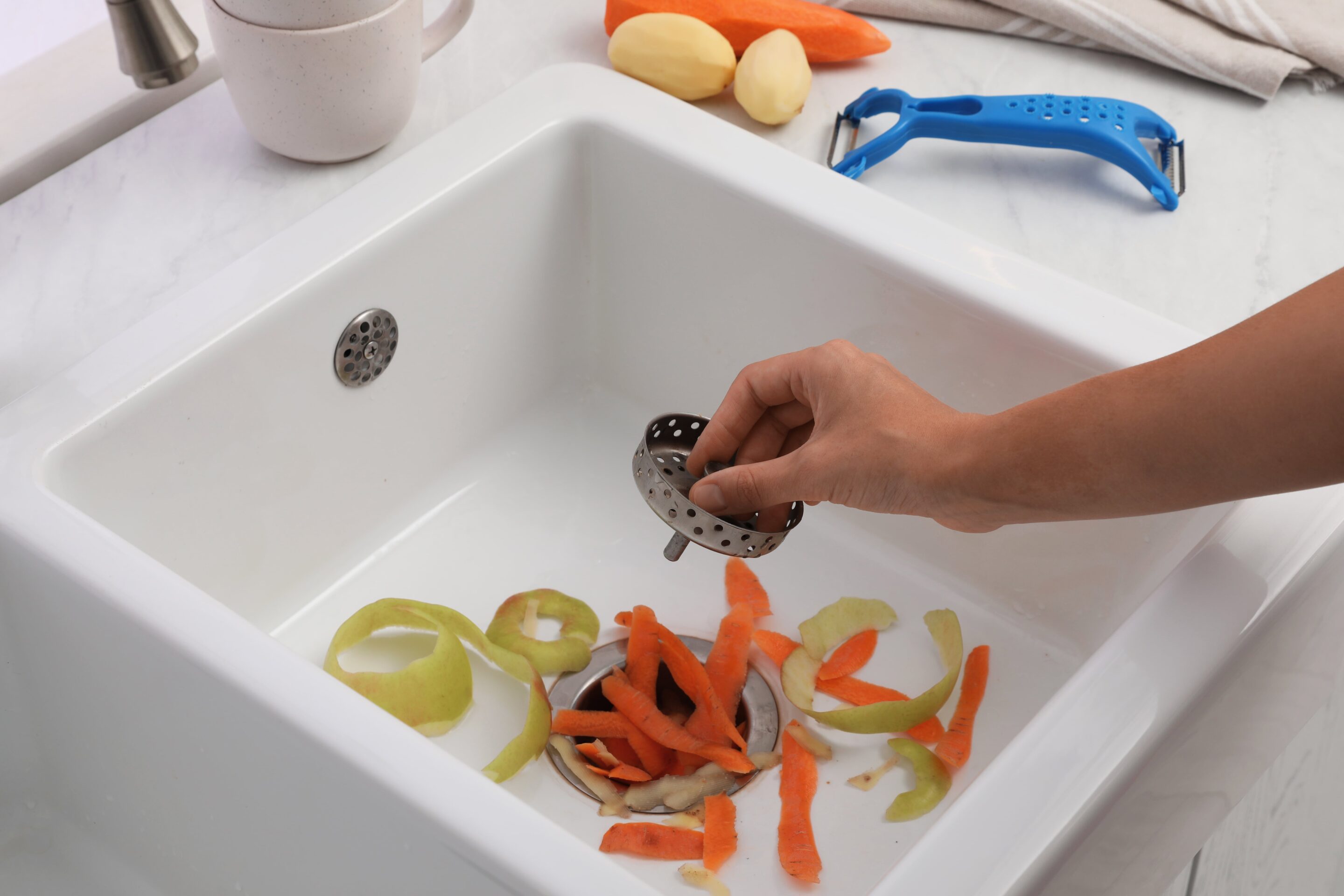 Garbage disposal or waste disposal units are machines that break down organic materials into small chunks that won't clog the plumbing system. A garbage disposal appliance is typically installed on the underside of the kitchen sink drain inside the cabinet.
Various types of food waste, like fruit rinds and meat scraps, are safe to place in functional garbage disposal units. However, you should avoid inserting fibrous materials, such as potato peels, as they are much harder to dissolve and may cause blockages.
When you switch on the appliance, the garbage disposal blades activate, spinning rapidly and pulverizing materials inside the grinding chamber. The waste material is forced through the chamber with water and into the house's plumbing system. Some garbage disposals connect directly to a septic tank. However, most disposal units are linked to local sewage lines.
Types of Garbage Disposal Units
With hundreds of garbage disposals to choose from, it can be challenging to find the right option for your kitchen. The first step in selecting a garbage disposal unit is determining what type of system you need. There are two main categories:
Batch feed garbage disposals
If you have safety concerns, a batch feed garbage disposal unit is a suitable option. Batch garbage disposals are designed to shred low volumes of waste in separate batches. This type of unit uses a lid-based safety system. The machine does not run if the disposal drain is open.
This design ensures the blades won't activate if your hand is in the drain. It also reduces the risk of a metal object accidentally falling into the grinding chamber when it is turned on. Batch feed disposals are efficient with water usage. However, they tend to be more expensive than continuous feed appliances.
Continuous feed garbage disposals
Continuous feed garbage disposal units are the most common type found in residential and commercial kitchens. These appliances feature an open design, allowing users to continuously feed waste through the device. The blades are activated using a switch, typically mounted to the wall above the machine.
The main drawback with a continuous garbage disposal is safety. Metal objects can slip into the open mouth without you knowing, damaging the components or causing debris to shoot out of the unit. The open design may also pose safety risks for small children.
Choosing the right material
Waste disposal machines must be strong and durable to withstand years of regular use. Most units are manufactured from stainless steel or galvanized steel. Stainless steel is rust and corrosion-resistant, making it the primary material for heavy-duty devices. Commercial-grade garbage disposals and high-end residential garbage disposals typically use stainless steel.
Galvanized steel garbage disposal units tend to be cheaper than stainless steel garbage disposal appliances. However, they are less resistant to rust and corrosion, making them prone to leakages. Correct installation and regular maintenance are vital to preserving the condition of a galvanized system.
Garbage Disposal Installation
Garbage disposal installation should always be handled by plumbing professionals. This ensures all connections are secured and sealed correctly and that the system is fully operational. Failing to complete garbage disposal installation properly, increases the risk of damage to your plumbing, and may lead to water leakages and safety issues.
Some manufacturers and hardware providers will void the system's warranty if it is not professionally installed. At Delta Plumbing & Mechanical, we provide various plumbing services, including professional appliance installations.
Our experienced team uses high-quality equipment to ensure first-rate installations, whether you need a new household garbage disposal or a water heater replacement. We've worked with all types of disposal systems from industry-leading brands and manufacturers.
If you experience issues with your current system, we also offer plumbing and drain cleaning services. After an initial disposal troubleshooting process, we can detect the problem and offer you a range of affordable solutions, including garbage disposal repair or replacement.
Dispose of Waste Safely With Delta Plumbing & Mechanical
Delta Plumbing & Mechanical provides a comprehensive range of plumbing solutions, including professional installation services. Ensure your home or commercial property is equipped with safe and operational waste disposal systems and quality installation.
For more information or to schedule an appointment with one of our technicians, give us a call or email us today.